De:terminence, Inc.

Although established in 2013, this movement began in the wake of a devastating diagnosis in 2007.
Our History
Raise Awareness
The fight toward any treatment or cure can't be won in solitude.
---
Cure Hopelessness
Helping others cross finish lines.
---
Encourage Others
Nobody should fight alone. Conquering requires community.
---
The Blog
Personal experiences, perspectives and opinions shared here. Read entries from our founder and other members of the de:community.
Our Blog
---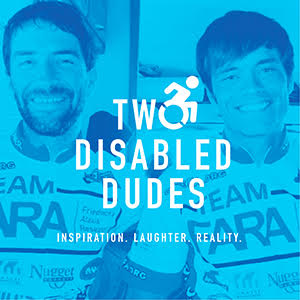 ---
TWO DISABLED DUDES

---
Sean and Kyle are both affected by a rare disease called Friedreich's ataxia (FA). Both dudes have completed several long distance bike rides including "The World's Toughest Bike Race" – Race Across America (RAAM). Their RAAM journey is the subject of an award winning documentary called The Ataxian. Their podcast is about setting sights beyond the challenges in your life and dreaming big, making a plan, and then executing like mad. You are guaranteed an emotional rollercoaster, and practical thoughts that you can apply to your everyday life with this podcast.
P.O. Box 162387 Sacramento, CA. 95816 | info@determinence.com